Today we have the absolute pleasure of featuring an extravagant three day wedding in Bali. This wedding has it all, and we're not just saying that lightly, people. We are so floored by the beauty of these nuptials that we just can't cover it all in one attempt. Tomorrow we will learn about the proposal and ogle over the ceremony and reception. However, at this time, would you please kindly store your tray tables to their upright position and turn your attention to today's focus: a breathtaking traditional Chinese tea ceremony and Roaring 20's welcome dinner.
But first, how ever did our gorgeous couple meet? Our bride and groom, Pinky and Bobby (aka #pinkyandthebob), met at a Snoop Dogg and Dr Dre concert through mutual friends in Hong Kong (already they're way cooler than us). After they started getting to know one another, they attended a birthday dinner for a mutual friend. At the end, Bobby offered to get Pinky a cab so she could get home safely. But then the craziest thing happened. When she went to close the door, the entire window shattered and glass bits got all over Bobby! She offered to let him use her bathroom to clean up. This led to the happy couple chatting on her balcony until dawn. Pinky says that it was truly a special night for both of them as their friendship eventually blossomed into romance.
Traditional Chinese Tea Ceremony
To kick-off this jaw-dropping wedding, the couple held a traditional Chinese tea ceremony. Pinky wore a striking red gown and ornate headdress. They received blessings from their parents which made Pinky feel "overwhelmed with emotions and so loved."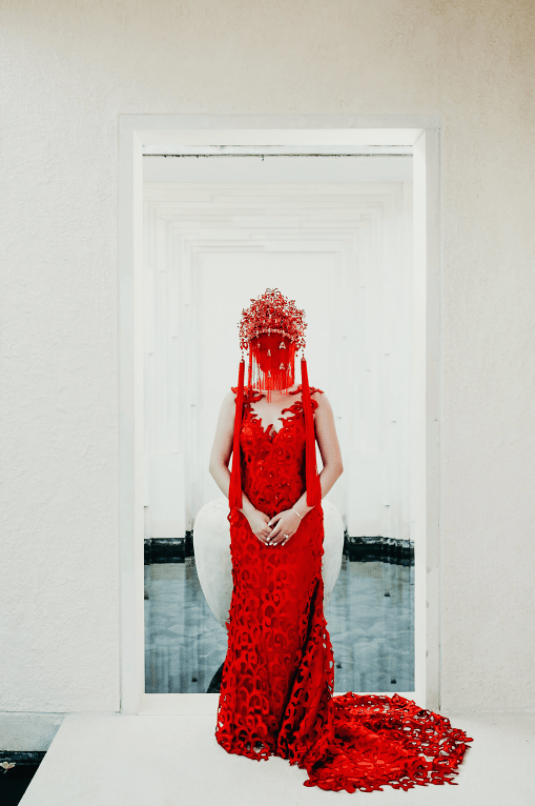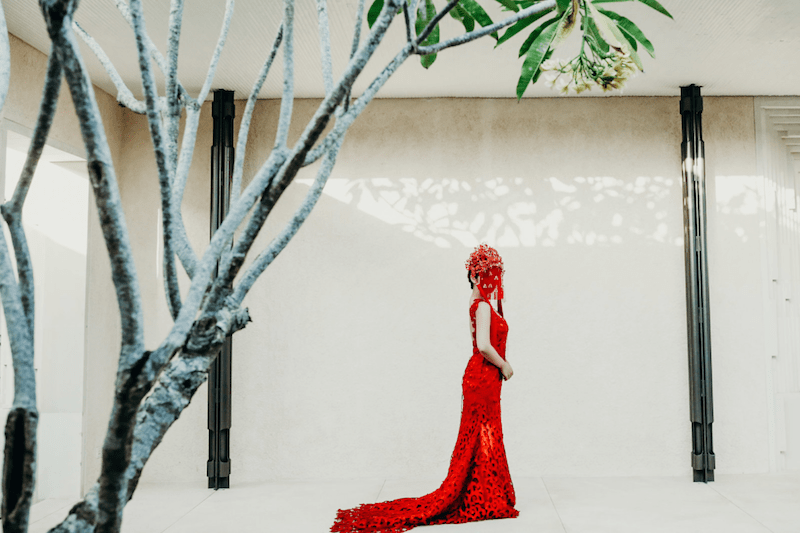 Roaring 20's Welcome Dinner
Later that evening, they held a Roaring 20's themed welcome dinner for their guests. Tables were donned with silver shimmering tablecloths and large white feathers. Everyone dressed to the "nines" in their Gatsby-esque attire. Pinky wore a slinky gold Alexandre Vauthier dress with finger curls and a red lip. A look so fab even Daisy Buchanan (and us) would be jealous of it. According to Pinky, "we prepared accessories and props for the guests to add onto their outfits like costume jewelry and cigarette holders. Most of the guests love a good drink so we came up with a variety of whiskey based cocktails and free flow champagne throughout the evening. The guests have a hangover kit in their welcome basket in case they needed it for the wedding day, and I'm pretty sure some of them needed it!" All we can say is, Pinky and Bobby, let's be friends.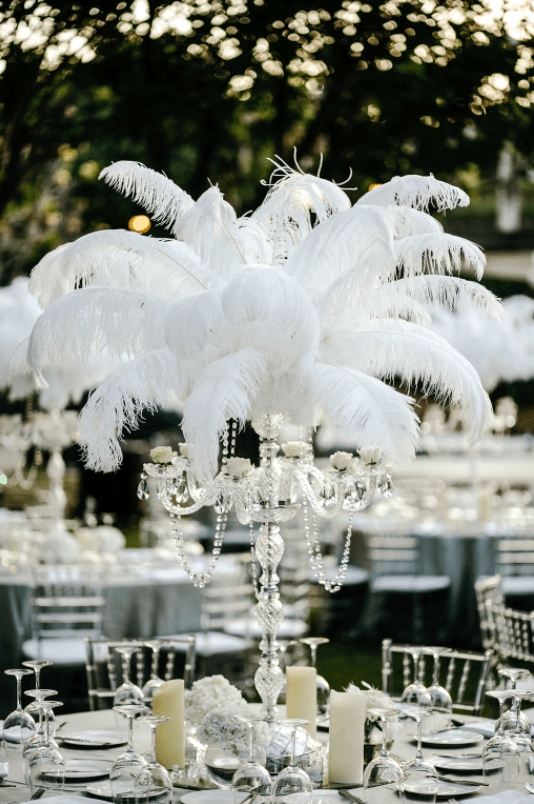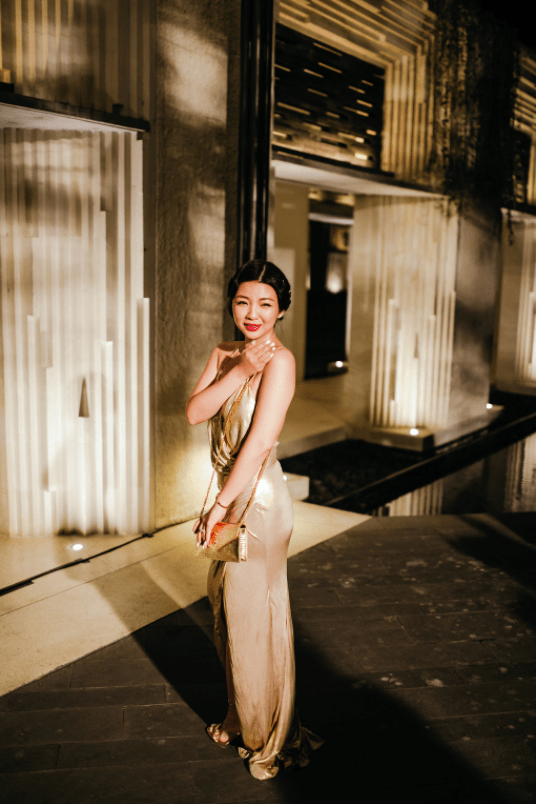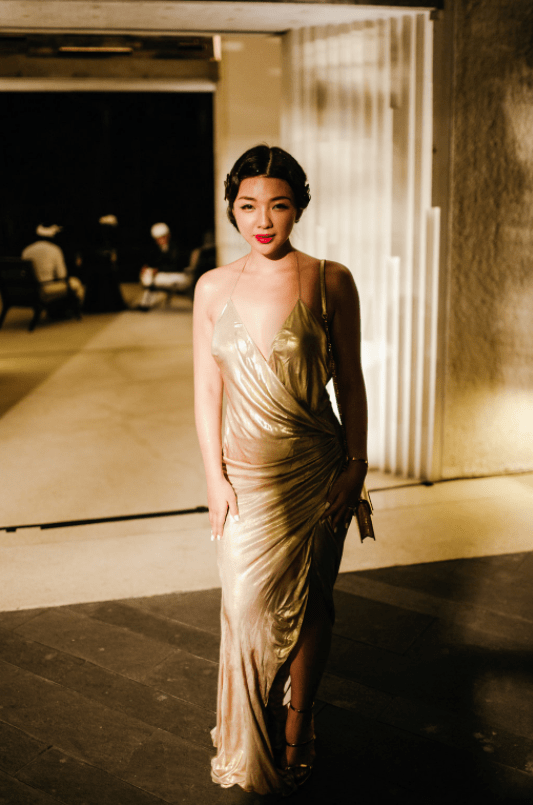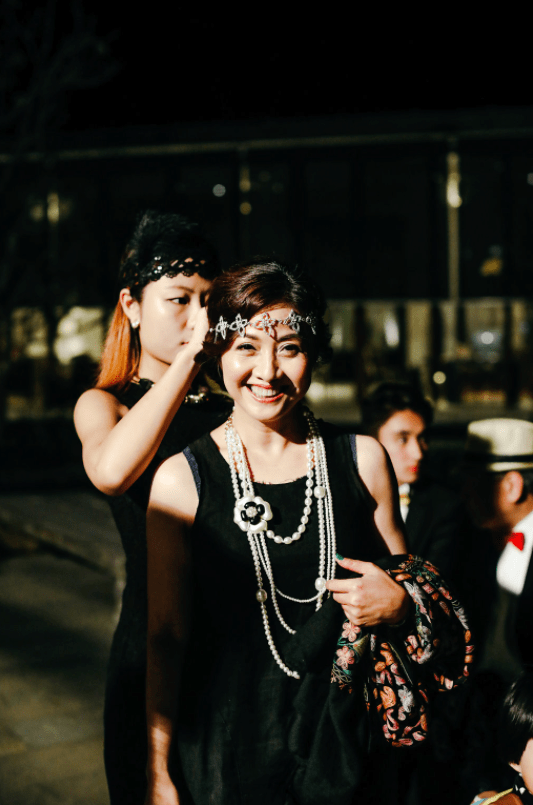 Lara Hotz is such a genius and each time we see her work we think she can't top it. But, alas, she always does. Her talent knows no bounds, and we only wish we had more exciting lives so we could hire her. Don't miss out on tomorrow's post where we see even more of her incredible work and this spectacular wedding!
CREDITS:
Photography: Lara Hotz
Dress: Alexandre Vauthier