Sometimes all you need in life is a stiff cocktail and a chick flick to get you through the day. Other times, you may need to play hooky from work and binge watch the same show for the 100th time (no judgement). Today, however, we are in need of a vintage warehouse wedding photoshoot.
What is it about the combination of opposites that is so pleasing? Sweet and sour, complementary colors, the bad boy with the good girl, brown hair with blue eyes, to just name a few. Where's a philosopher when you need one? Regardless, we are contributing to this conundrum with today's gorgeous shoot.  There's something about wearing an epic Hayley Paige vintage-inspired ball gown in a modern warehouse that really gets us going. The delicacy and refinement of the lace detail and dreamy full skirt juxtaposed to the hard and severe lines of the Journeyman Distillery is striking.  These unique elements only seem to amplify each other. In other words, the softness only makes the hardness stand out more and visa versa. Wait… did we just figure it out!?
As we mentioned, our girl, Adrian, is wearing a gorgeous Hayley Paige gown (is there any other kind?). Her hair is giving us Old Hollywood vibes especially in combination with her bold plum lip courtesy of MAK Salon & Spa. The wildflower accents from The Sodus Blossom in the bouquet, boutonniere, and centerpieces once again are the perfect complement to the modern venue. Our groom, Jacob, looks handsome as ever in his two-toned tux from Alexa Claire Tuxedo. OK, can we just take a moment and appreciate this look? You don't see many grooms these days wearing a different color coat and pant to their wedding. However, we are officially saying that more of them should! It's such a clever way to incorporate color into your wedding as well as add personality. We approve, Jacob, we approve.
Now, let's talk about the deets. This table setting is so beautifully done by The Rental Company. We are getting major "chic summer garden" vibes.  I mean a pineapple vase and pear name cards!? Sign us up. Not to mention the oval-backed ghost chairs which we have always wanted for all of our chair needs. The invitations and menus by A Foraged Affair, add such a soft touch with their watercolor inspiration. The ring is an Art Deco revelation and the only way to do a halo in our opinion. 
Giving Tree Photography took incredible photos to document such inspiration. This photoshoot is nothing but pure gold ideas on how to have the perfect vintage warehouse wedding. It's given us courage to be more bold with our mix and matching, and we sincerely hope it encourages you all to do the same!
Vintage Warehouse Wedding Inspiration Shoot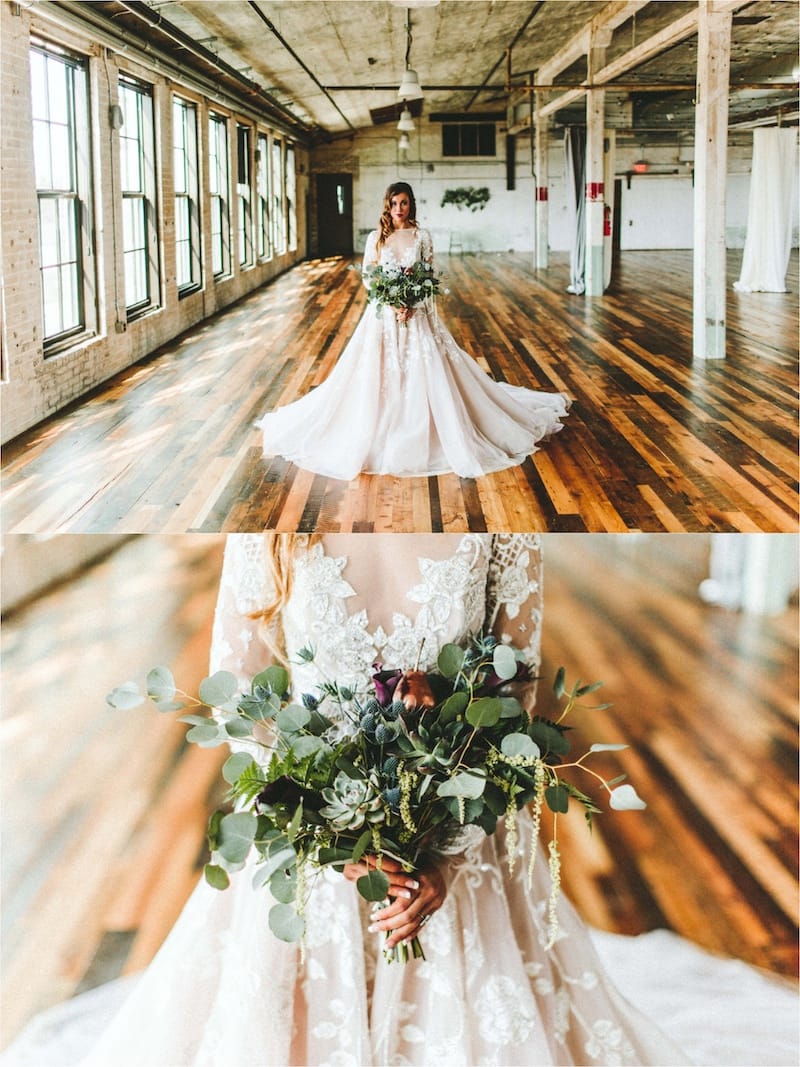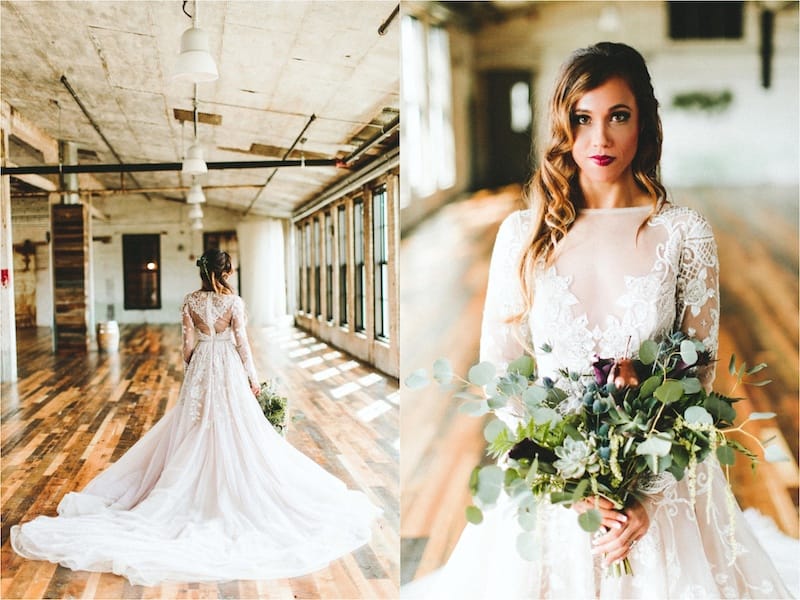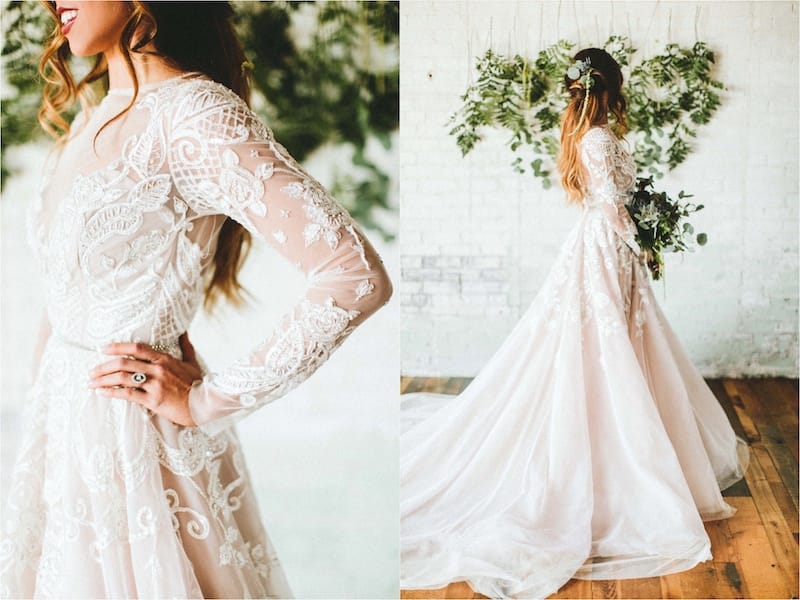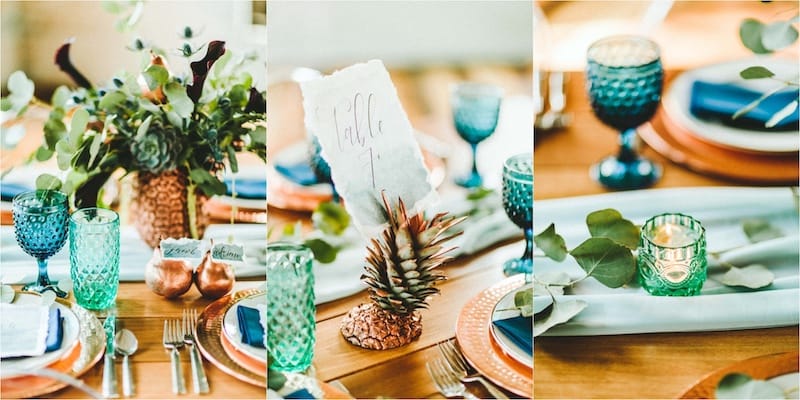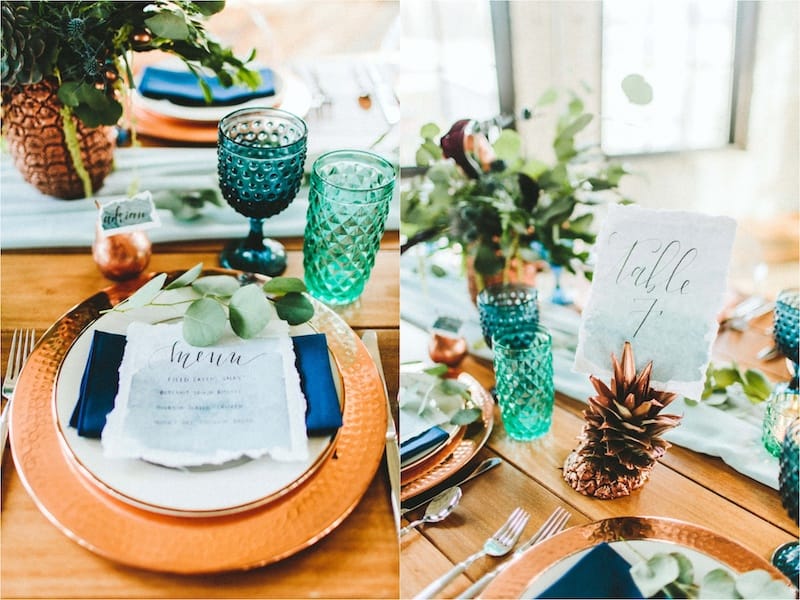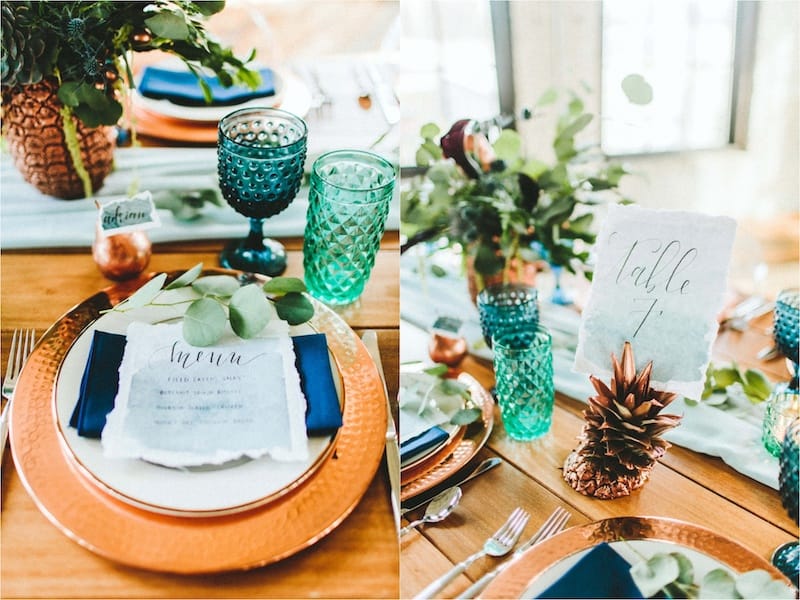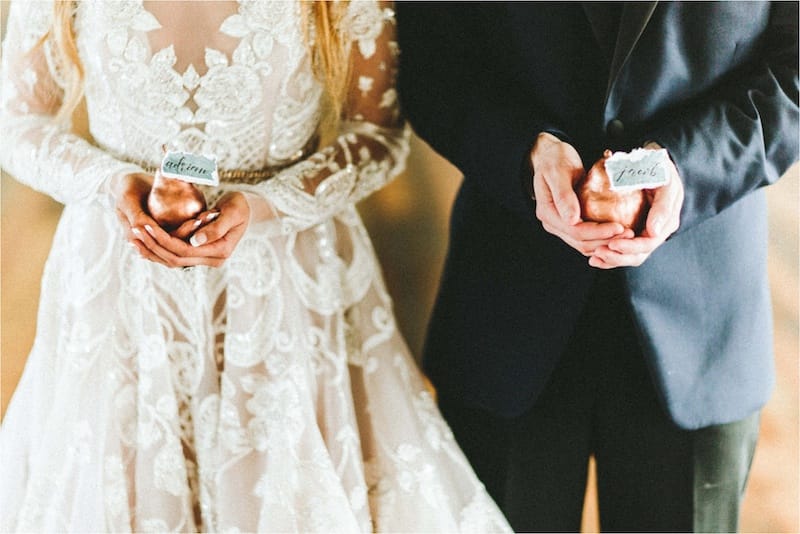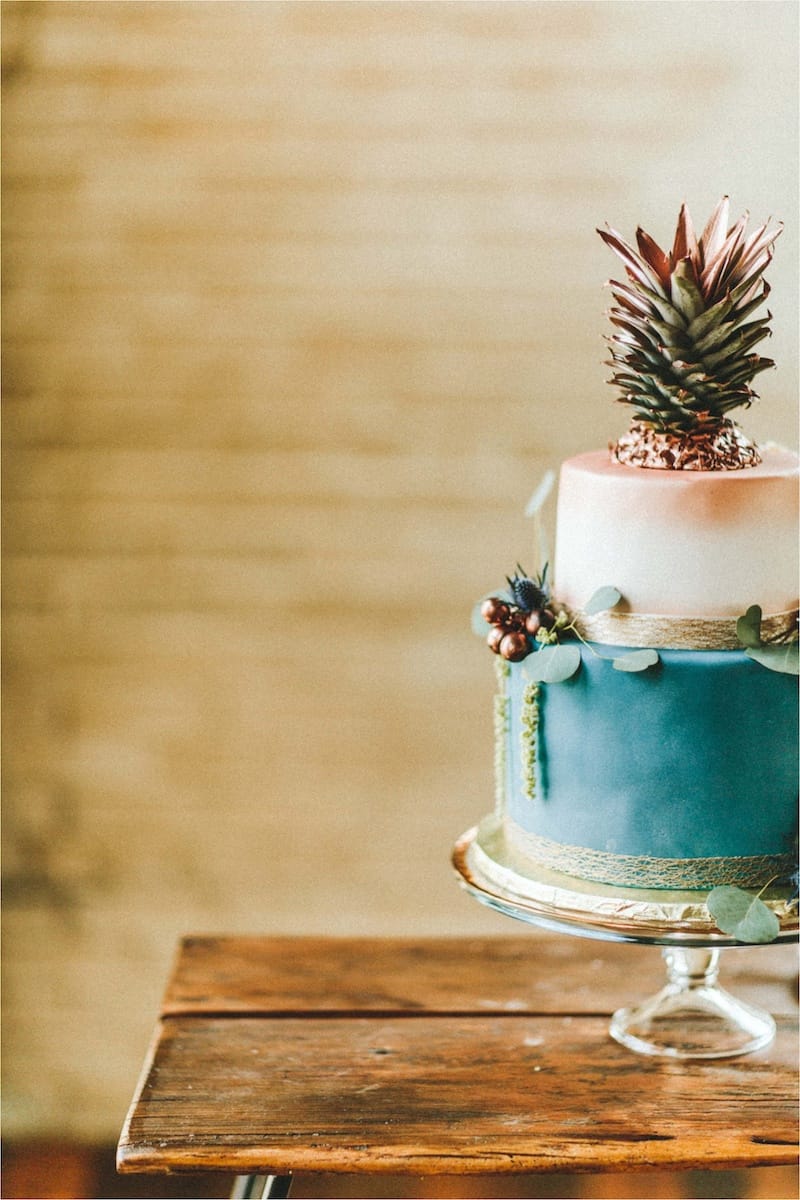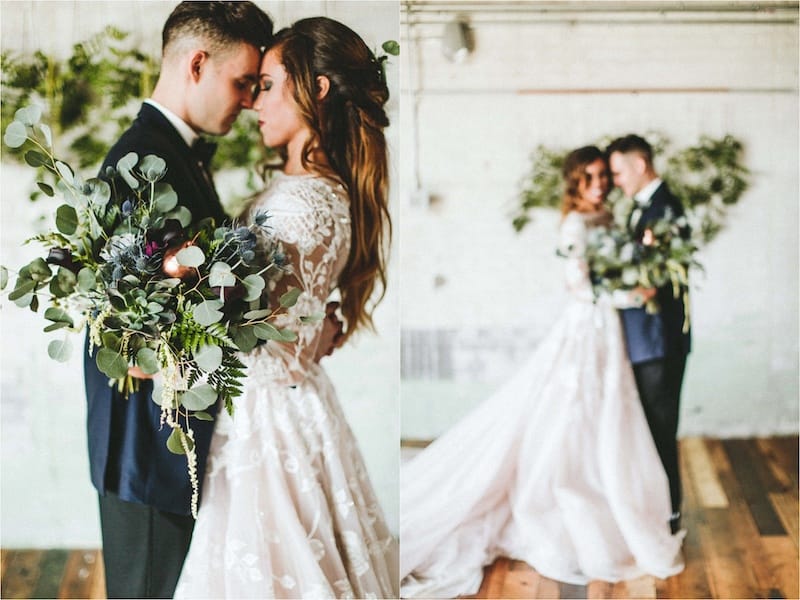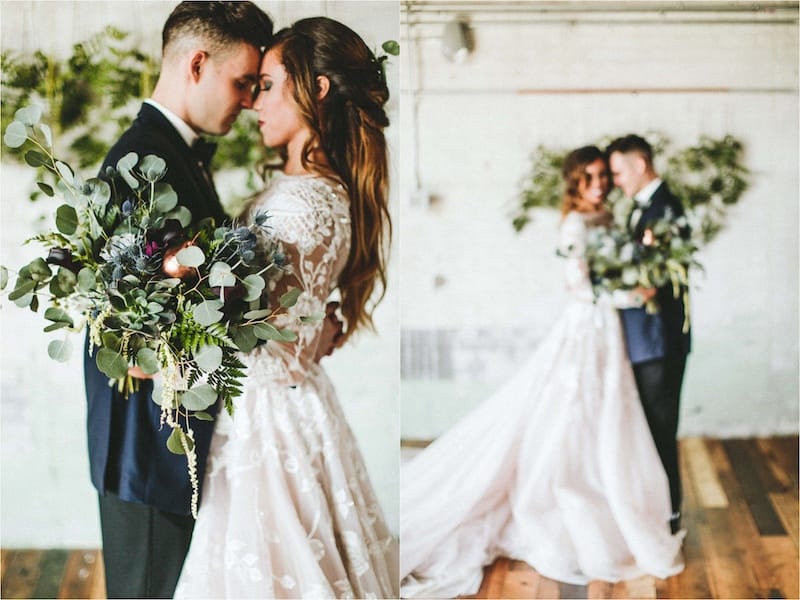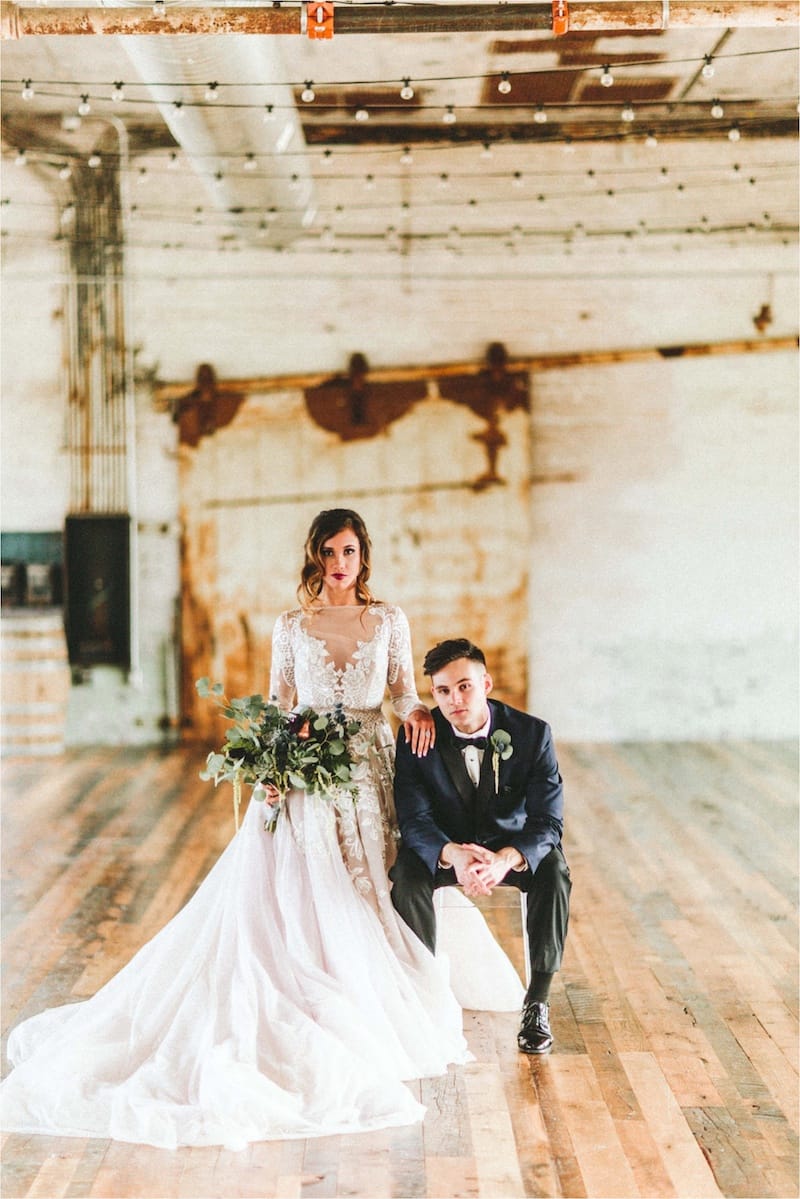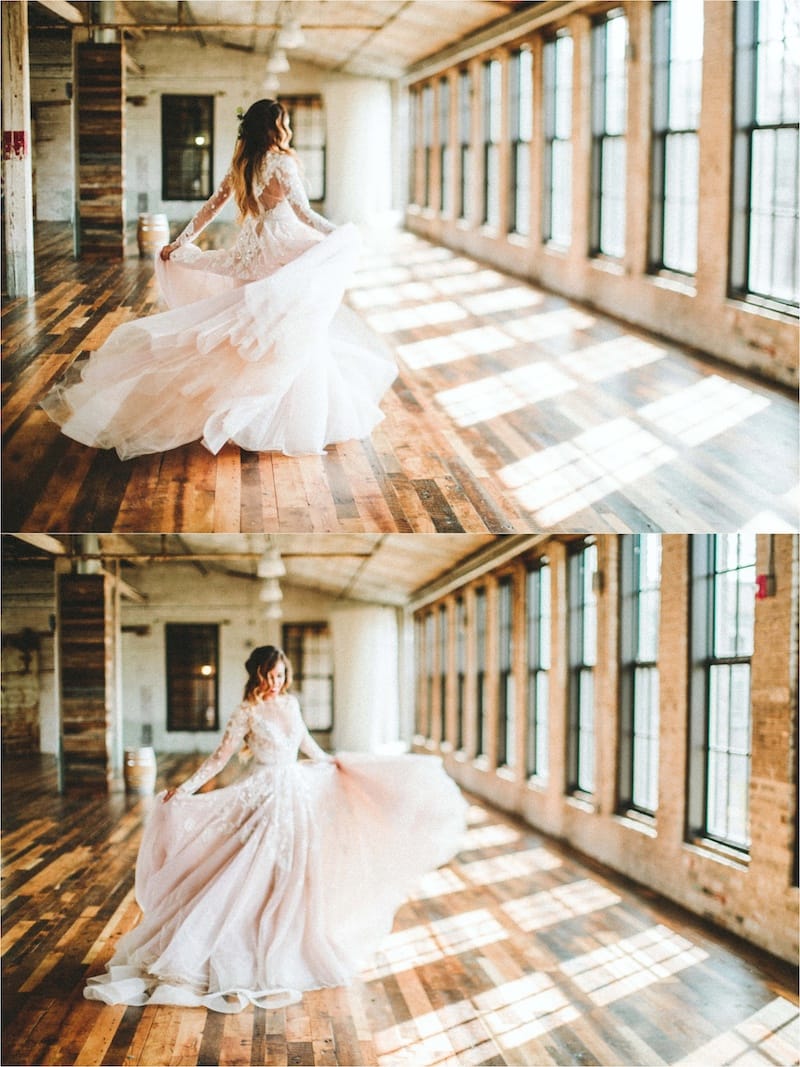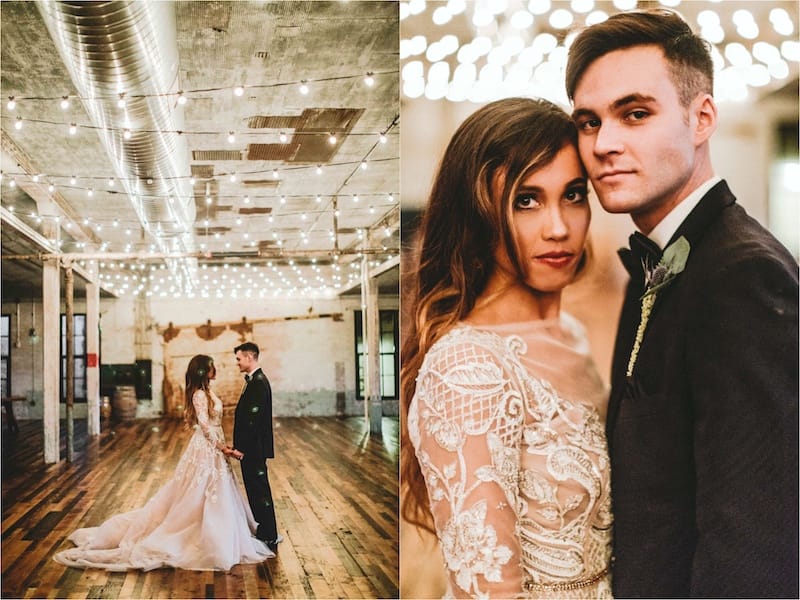 CREDITS:
Venue: Journeyman Distillery, Three Oaks, Michigan
Photographer: Jodi of Giving Tree Photography
Event: Lauren Elisabeth Events
Florals: The Sodus Blossom
Stationary/Signage: A Foraged Affair
Hair/Makeup: MAK Salon & Spa
Dress: Hayley Paige
Tux: Alexa Claire Tuxedo
Cake: C'est La Vie Cakes
Tablescape items: The Rental Company