If you ever wondered what it would look like to have a whimsical vintage wedding in a forest, then look no further than Holly + Brad's. These two absolutely knocked it out of the park with this unbelievably gorgeous wedding.
Set in the "secret circle" of the forest lining the Bilpin Resort, Holly + Brad got married in front of their loving family and friends. Holly wore an Elizabeth de Varga ballgown with delicate lace shoulder details. Her hair was pulled back into a bun with wild flowers lining the base. Holly's bridesmaids were in, get this, white gowns as well! We love a bride that breaks the "rules" and makes her day completely her own. The ladies all in white made for a striking contrast against the forest backdrop and colorful wildflowers. Also, can we just talk about how unbelievably fab the outerwear is!? Holly's fur trimmed white coat is a dream, and the bridesmaids camel sweater shawls are the cozy formalwear we never knew we needed. However, let's not forget about the dapper gentlemen (like we ever could). Brad and his groomsmen wore royal blue suit coats, khaki slacks, and bow ties. They're the perfect compliment to the bright florals and rich greenery.
It's not too often that we come across a bridal party where there isn't a huge styling differentiator between the happy couple and their attendants. And we have to say, we're kind of loving it. This uniformity creates such beautiful images and is a very punctuated take on such a beautiful theme for a wedding.
The couple's transportation of choice was a vintage Vanguard. This added the perfect element of "vintage" and was a great vehicle (pun intended) for standout photos. Speaking of standout photos, Tamar Porter from Bless Photography is a master and captured this happy couple's nuptials perfectly. Excuse us while we get swept up into the magical land of love that Holly + Brad so masterfully created.
Whimsical Vintage Wedding in a Forest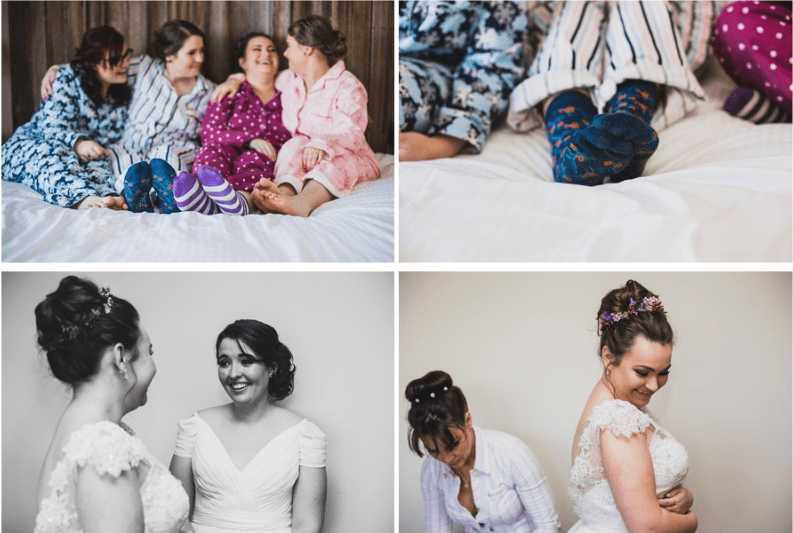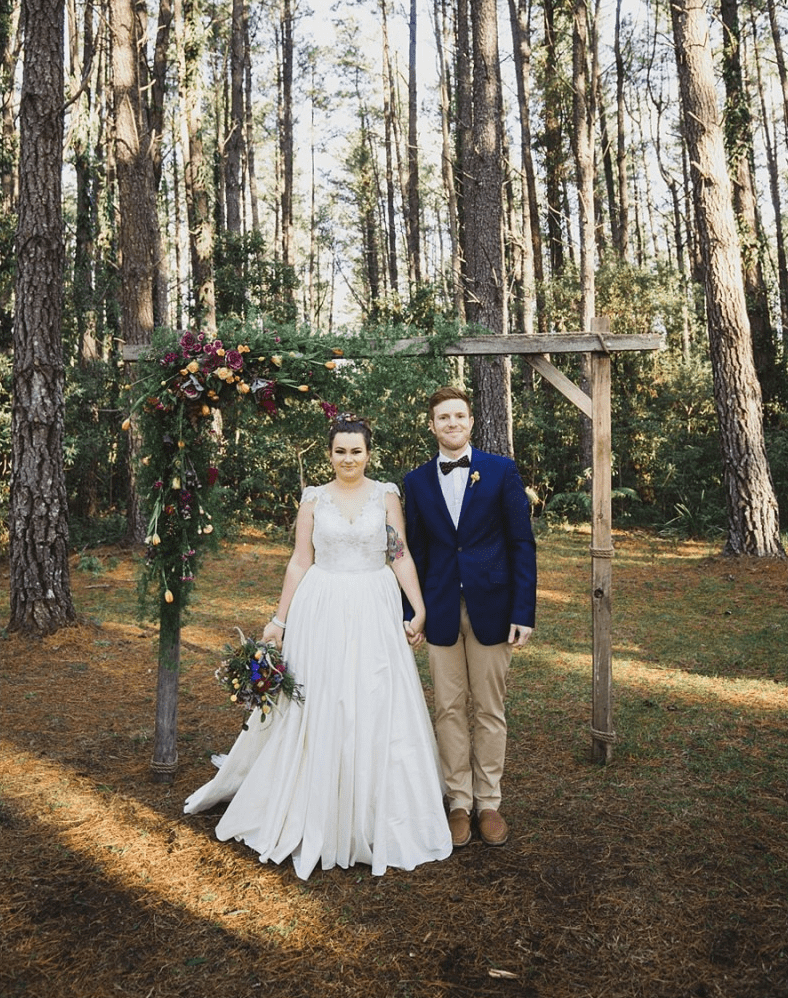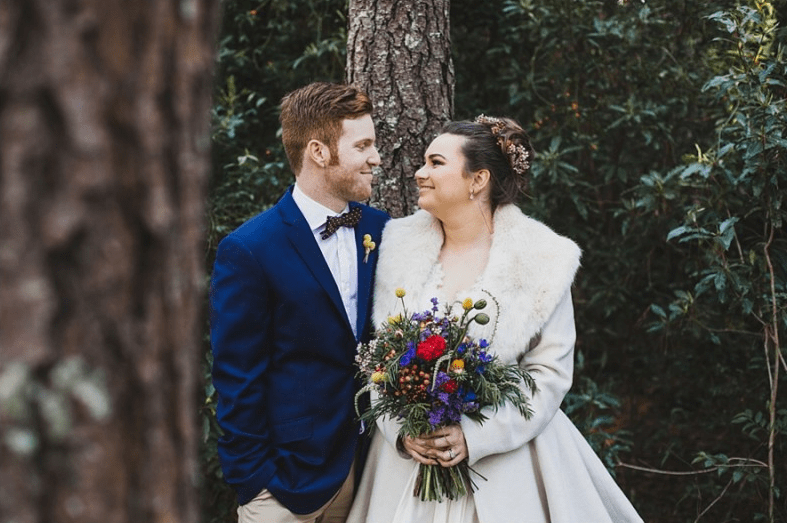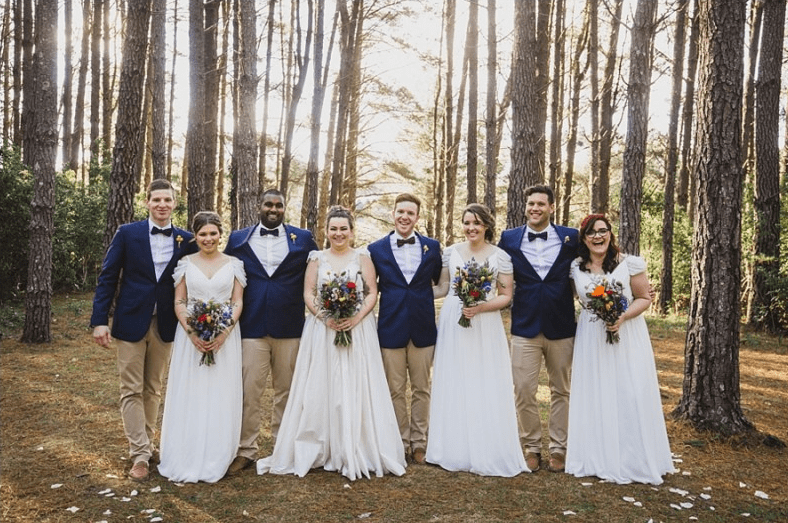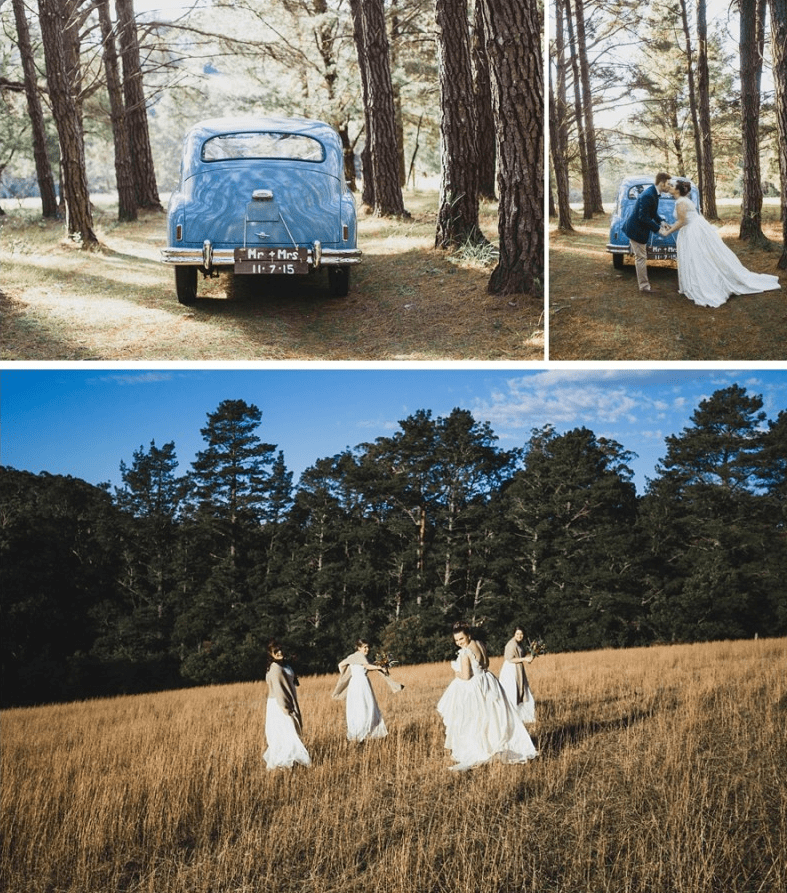 CREDITS:
Photography: Bless Photography
Venue – Bilpin Resort
Dress – Elizabeth de Vargo from Brides of Beecroft
Hair – Studio 206
Makeup – Ron Day Vu Makeup
Suit – Wolf Kanat & Ben Sherman
Flowers – Willow Flowers by Design
Cake – Ten/6
Stationery – Sail and Swan