One of our favorite things in the world is when people have weddings at historic and incredibly unique venues. There's just something so special about celebrating love in a location that's seen thousands of couples throughout its lifetime. Now, obviously, there are an unlimited amount of places one could theoretically go to get married. However, we say what's better than the land of rich history, pasta, love, fashion, and lots and lots of vino? The answer is… well, nothing! So imagine our excitement when our dear friends at Alessandro Mari Photography sent over this stunning vintage bohemian wedding at a historic Italian villa.
Dating back to the 17th century, the gorgeous Abbazia San Pietro Sopra le Acque resort was the setting for this session. According to Alessandro, "the traces of its rich past can be seen in the frescoes, antique furniture and architecture which are all lovingly preserved to create a warm and inviting atmosphere." The goal of Alessandro's team was to use the beautiful surrounding autumnal colors as inspiration. This came through in the pomegranates, pastel rose tones, dahlias, red leaves, and berries seen throughout the event. They also incorporated vintage furnishings and objects such as typefaces, stamps, lanterns, old desks, and sofas. These adornments decorated the stunning grounds to resemble a bohemian living room.
Atelier La Jolie Fille created two gorgeous wedding dresses for this shoot. The first dress is an exquisite combination of delicate lace and soft tulle. The long-sleeved lace and draped deep open-back marries perfectly with the delicate style of apricot-colored gowns made by Roberta Settimi for the two bridesmaids. The second wedding dress is slightly more playful for the reception. The simple long light taupe sheath dress compliments the sheer tulle cape overlay seamlessly. Let's also not forget those fabulous shoes by Anniel that tie her vintage look together perfectly!
We are just incredibly in love with everything that Alessandro's team put together for this Italian wedding. If we ever get three wishes from a genie, we're pretty sure having this as our wedding will be one of them. In the meantime, don't mind us as we pour a glass of Chianti and lust over everything in this shoot.
Vintage Bohemian Wedding at a Historic Italian Villa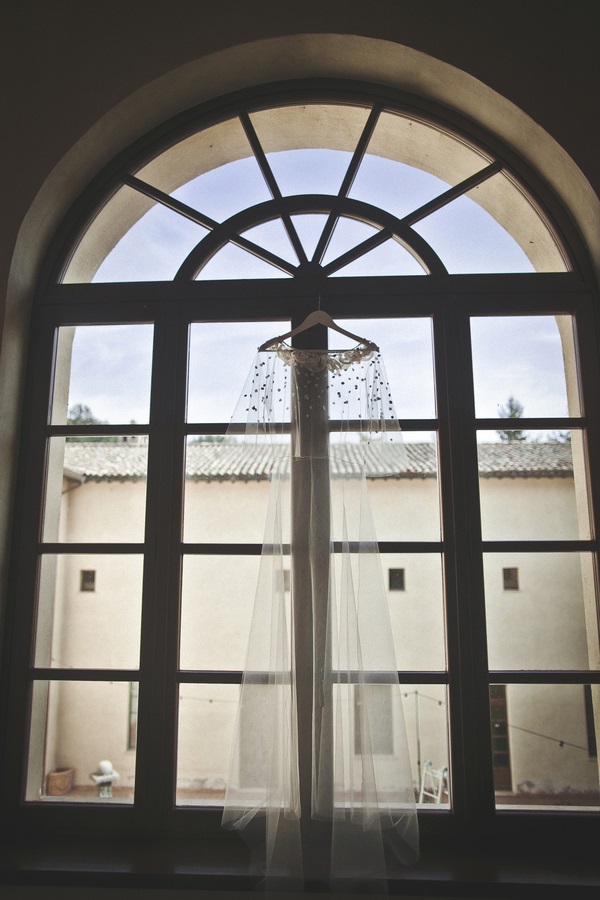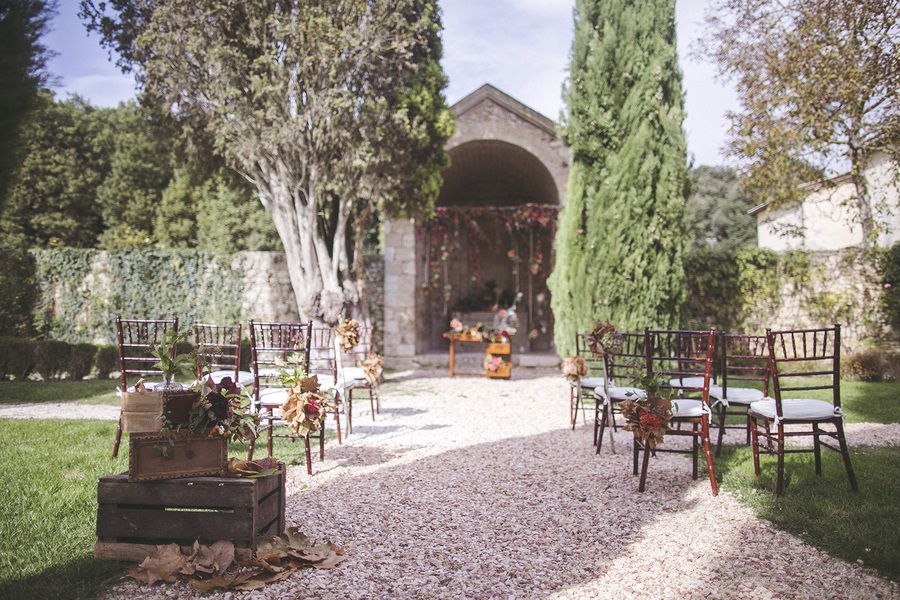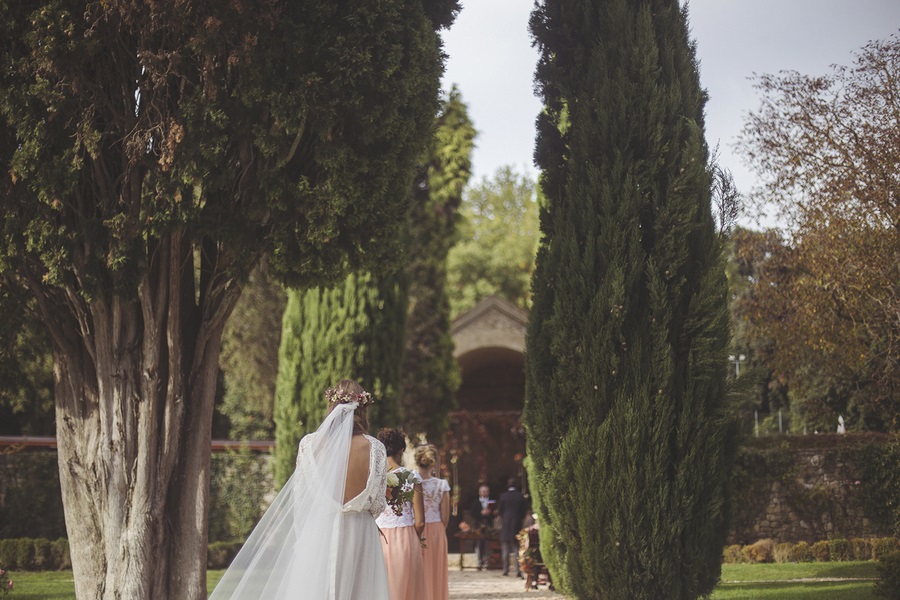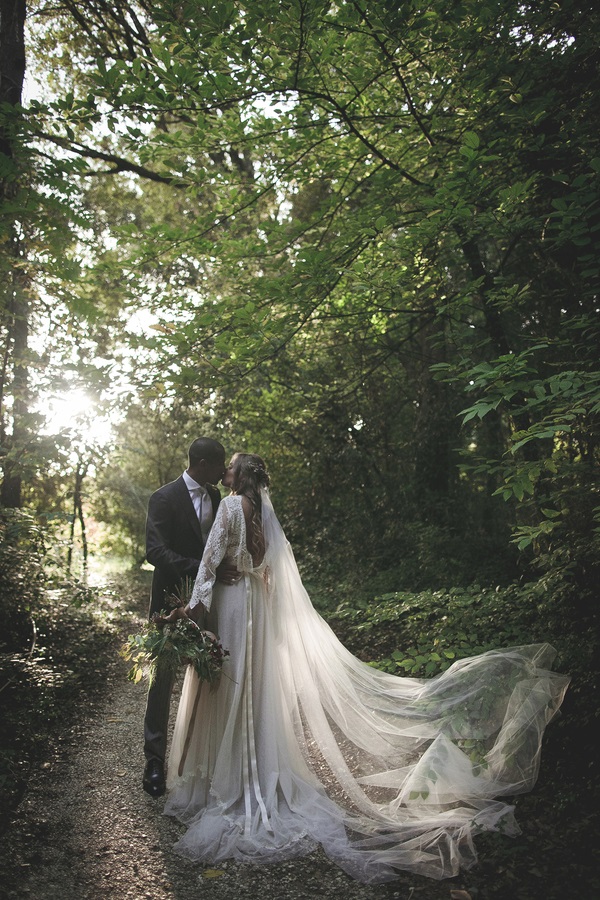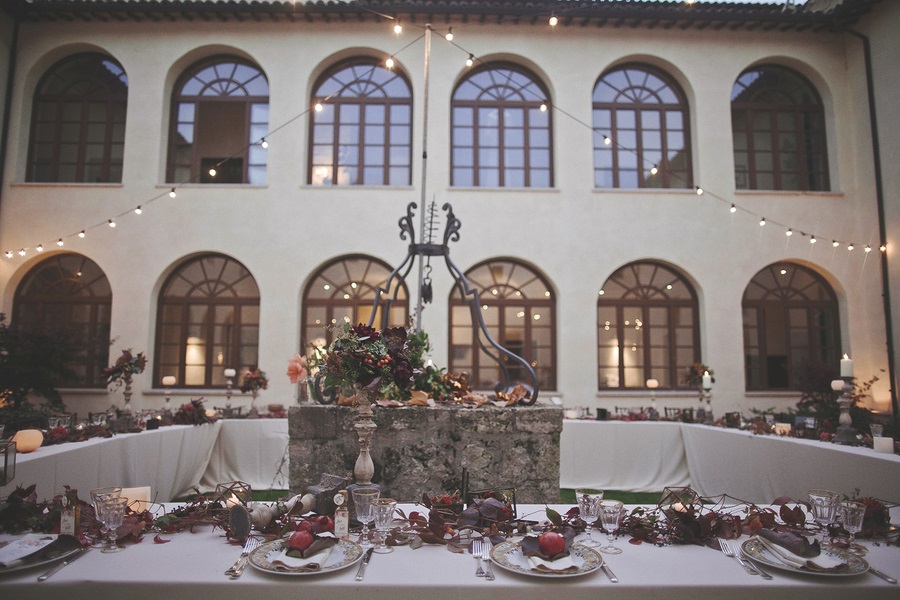 CREDITS:
Photography: Alessandro Mari Photography
Venue: Abbazia San Pietro Sopra le Acque
Florist: Sartoria Floreale
Shoes: Anniel
Officiant: Blessings from Italy
Dress Designer: Atelier Le Jolie Fille
Bridesmaid Dresses: Roberta Settimi
Men's Attire: Sergio Donati
Makeup: Martina Pioli
Invitations: Come le Ciliegie
Video: Tommaso Scalise Videography