Today we are irrationally excited because it's time for …drumroll, please… our monthly feature on our current favorite vintage engagement rings! There's just something about staring for hours at diamonds that really puts us in a good mood. We are calling out to all of you ladies, and gents, who are either currently hunting for your own ring or anyone who just appreciates a beautiful piece of jewelry. Please pour yourself a glass of champagne, put up your feet, and peruse these sparkly beauties at your leisure. The work has been done for you (with a little help from our jeweler friends), so now all that's left is to pick which one is your favorite.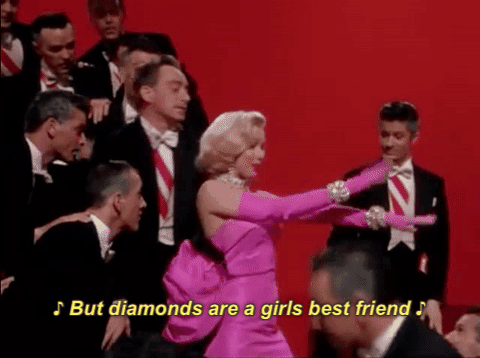 Victorian
This absolutely breathtaking ring is from 1890! The center diamond is a romantic 1.11 carat rose cut diamond. We are getting major princess vibes from this beauty. (courtesy: Victor Barbone).
A great example of the classic Victorian "buttercup" ring, this 1.38 carat old-mine cut center diamond absolutely sparkles when set against the bold gold band with black enamel carving. This beauty is from 1890! (courtesy: Erstwhile Jewelry)
Edwardian
Ah, this (not so little) beauty is a show stopper. From around the year 1910, you will not be a wallflower while wearing such a gorgeous piece. If not wanting an engagement ring, wear it as a cocktail ring! Either way, we'd be insanely jealous. (courtesy of Victor Barbone).
Gemstones and vintage rings are synonymous. You often find a colored stone within the intricacies of vintage rings. This gorgeous sparkler is no different. From the year 1915, you will be sure to catch people's eyes with this one! (courtesy: Erstwhile Jewelry)
This gorgeous 0.95 carat old oval cut diamond ring is giving us all the feels. From 1915, this ring is sure to get any girl to say "yes!" (courtesy:Victor Barbone).
Art Deco
This insanely gorgeous ring exemplifies the classic "stair step" setting of an Art Deco ring. This 1.51 carat Marquise diamond is absolutely the star. You will not go unnoticed in this beauty from 1928! (courtesy: Victor Barbone)
This spectacular ring has delicate and intricate floral and leafy designs throughout. The 2.07 carat old mine cushion cut center diamond is a unique shape which gives it plenty of personality! (courtesy: Erstwhile Jewelry)
This circa 1920 Art Deco ring is truly unique! What a gorgeous 1.17 carat old European cut center diamond that is perfectly flanked by two 0.25 carat old European diamonds. We are loving the low profile of the setting (aka no snags!) and the fact that the ring spans your whole finger. (courtesy: Victor Barbone)
Well, excuse us while we go casually send all of these photos to our significant other. Thanks to the amazing jewelers, Victor Barbone and Erstwhile Jewelry, for sourcing these truly spectacular rings!