"Sometimes, I think of the Moon and Sun as lovers who rarely meet…always chase and almost always miss one another. But once in a while, they do catch up…and they kiss and the world stares in awe of their eclipse."
Oh boy, do we have a special one for you today, ladies and gents. The quote above was provided by the extremely talented event planner, Angie Allen Weddings + Events, as inspiration for this shoot. Feeling moved from a recent eclipse, this fantastic team decided to create an engagement shoot that represented this epic love story. You seriously do not want to miss out on this incredible Old Hollywood glam eclipse engagement shoot.
Set at the romantic Villa Marco Polo Inn B&B in Victoria, British Columbia, this engagement truly comes alive. Originally designed and built for the Mayor's daughter in the 1920's, this historic estate combines fine antiques and art into a truly stunning venue.
Our gorgeous bride-and-groom-to-be look picture perfect. We are absolutely loving our brides classic Old Hollywood vibes. When in doubt, wear a long sequined dress, classic finger waves, and a white fur shawl (aka our typical cocktail hour attire).  According to Angie, they wanted to style the groom as an outdoor woodsmen. The different styling between the bride and groom helps to symbolize the story of the Moon and Sun.
It all comes down to the fact that we simply can't stop staring at this shoot (kind of like an eclipse?). Angie Allen Weddings + Events and her masterful team did a spectacular job creating such a beautiful engagement scene. We honestly just want to live in this vintage wonderland forever, and we're not afraid to say it. All we can say is once you look at these photos, you'll think so too.
Old Hollywood Glam Eclipse Engagement Shoot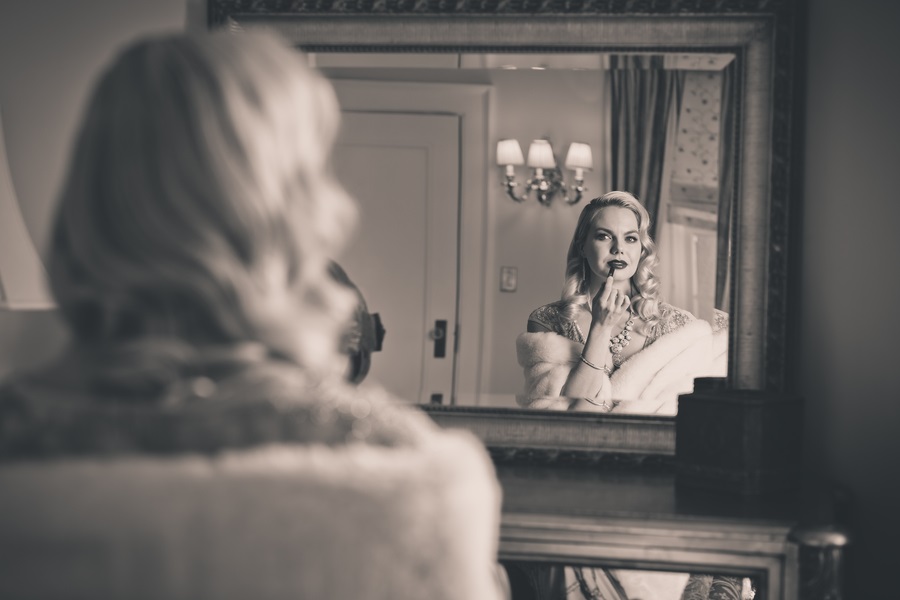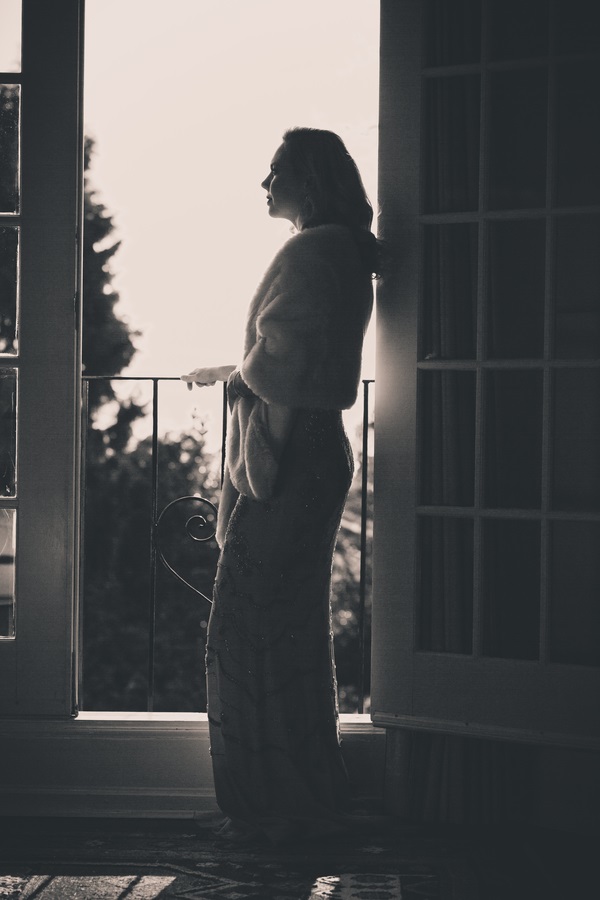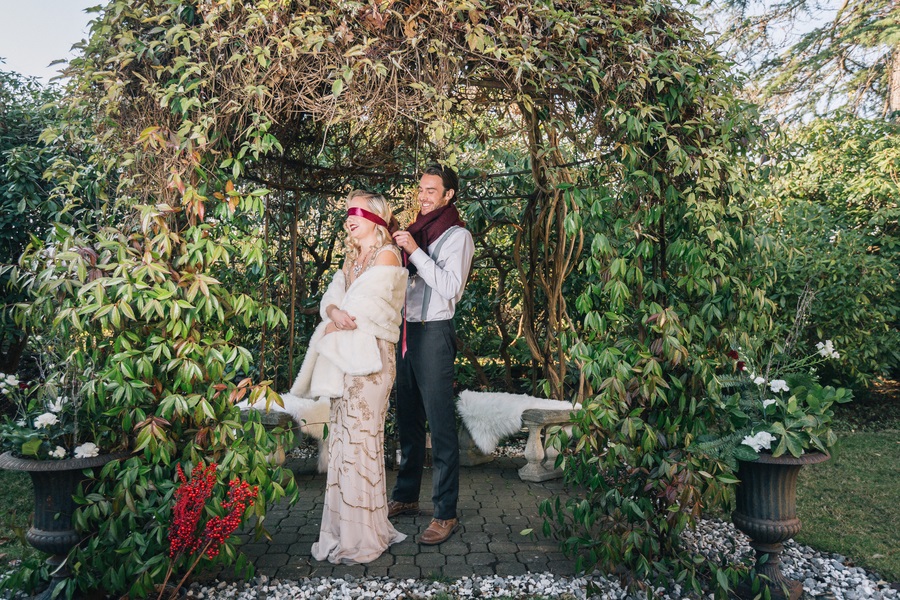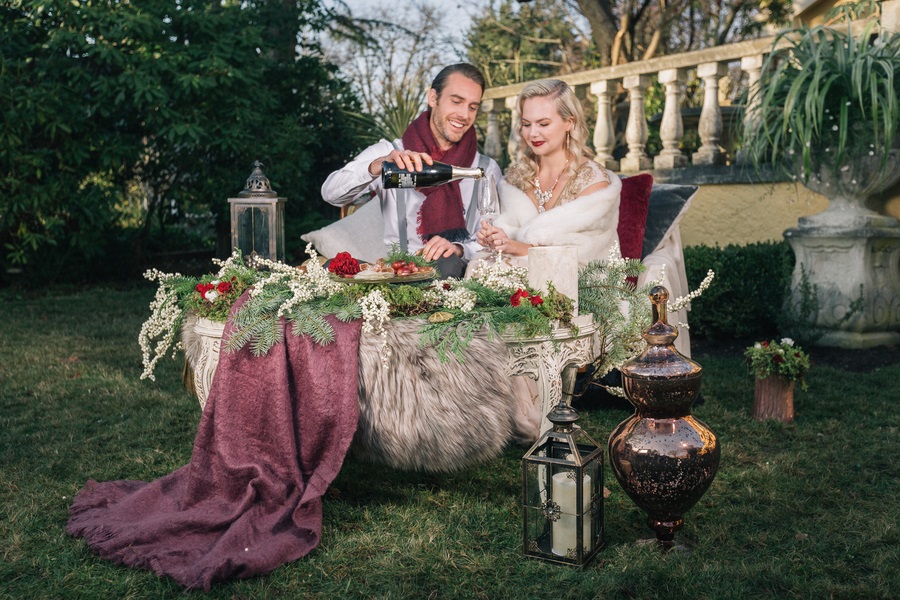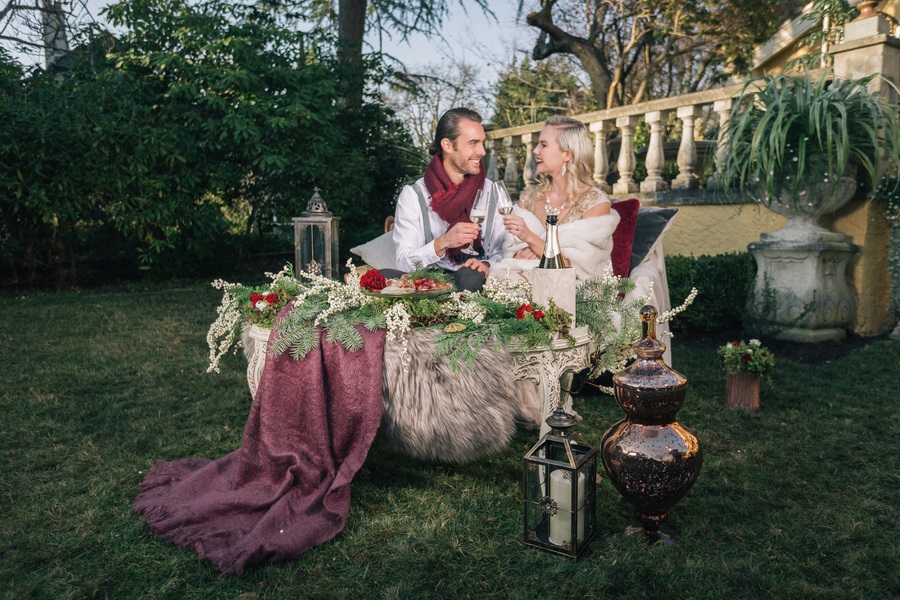 CREDITS:
Event Designer + Event Planner: Angie Allen Weddings + Events
Venue: Villa Marco Polo Inn B&B
Photographer: Marlboro Wang Photo
Apparel: Rent Frock Repeat
Model: Tyler Harrison ; Stefanie Kos
Equipment Rentals: PartyMood
Beauty: Erin Bradley Makeup Artist & Stylist
Makeup: Make Up By Erica Harris