Unfortunately, we live in a world that has lost a lot of the character and opulence of past times. I mean, OK, we get that it probably doesn't make sense to use ornate Baroque architecture for buildings anymore. But let's be real, it would look a heck of a lot better than another boring rectangle. Because of this horrid truth, sometimes it's really hard to find vintage locations for inspiration, especially depending on where you live. If you want to take your engagement photos in a historic place, par exemple, what do you do if nothing's easily available? Well our good friends at We Choose the Moon Photography (WCMP) and our gorgeous couple, Jenny + Rob, figured out a genius life hack for such a conundrum.  Ladies and gentlemen, start your engines, because this moody antique store engagement shoot is about to blow your minds.
Why have we never thought about doing this!? There are quirky and fabulous antique stores nearly everywhere. So you want some vintage inspiration or an amazing backdrop, maybe you have to look no further than a few blocks away. WCMP said that they knew at some point they needed to shoot at the incredible Joe Ley Antique Store. "This wasn't a standard antique store; so many one of kind items and most of them actually displayed, not just placed on a shelf somewhere."  Why Jenny + Rob as the subjects you may be asking yourself? Well being one of the most eclectic couples WCMP has ever worked with, they also "have an unmatched taste in bourbon, a love for rock climbing, a weird amount of knowledge about cast iron skillets, and listen to bands most people have never heard of." Apart from them sounding like our new best friends, they seem perfect for such a unique engagement shoot!
Jenny wore a gorgeous cobalt blue velvet dress by Urban Coco while Rob rocked a fab double breasted grey plaid vest from Coofandy. They look modern vintage with the right touch of quirky to completely mesh with the beautiful backdrop perfectly.
Simply stated, there's not much else to say besides, "wow," when looking at these incredible photos. Perhaps Jenny + Rob were the perfect couple for such a photo shoot, but we're pretty sure that We Choose the Moon Photography was the perfect photographer to capture it. So in honor of our fabulous couple, please pour yourself a glass of bourbon and enjoy this incredible engagement shoot.
Moody Antique Store Engagement Shoot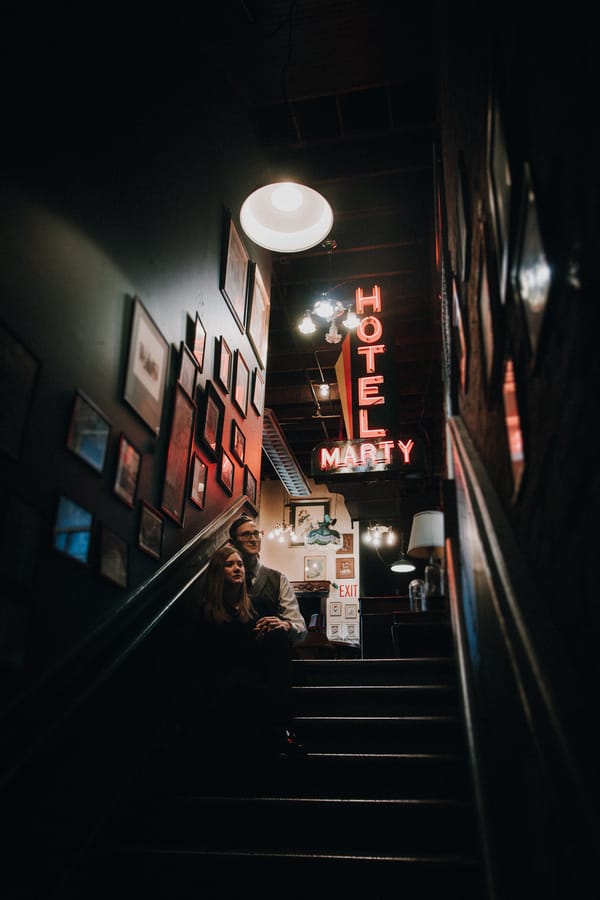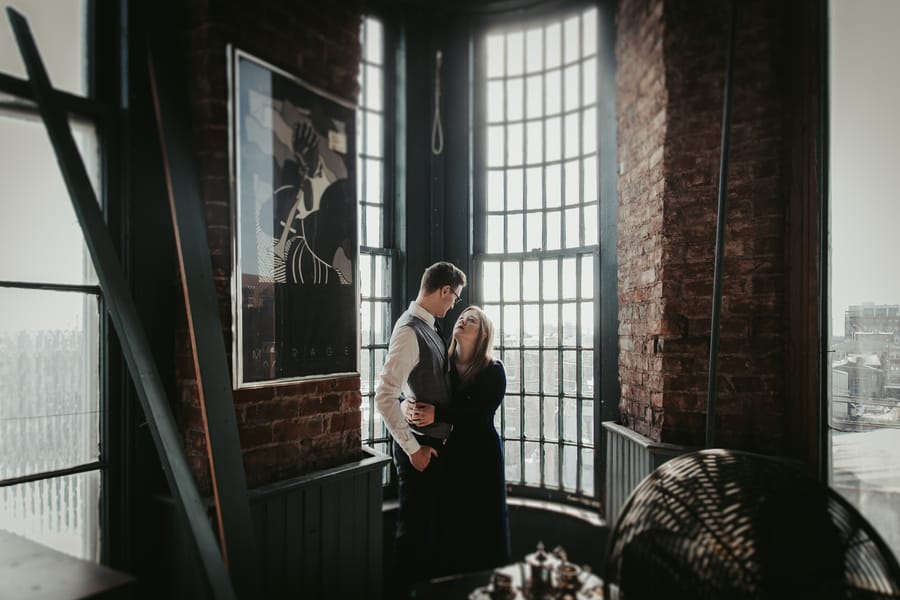 CREDITS:
Photography: We Choose the Moon Photography
Dress: Urban Coco
Vest: Coofandy
Venue: Joe Ley Antique Store
Submission: Two Bright Lights