We are always extremely impressed with people who can DIY. Whenever we attempt to make something ourselves, we end up on the Pinterest Fail page. However, we are even more impressed when couples incorporate DIY elements into their weddings and it comes out looking straight professional. The best part about this treasured ability is that you can customize your wedding on a small budget as well as have complete creative control. Now we had thought we'd seen some pretty decent DIY weddings in our time until Clint Bargen sent over his sister's wedding. Ladies and Gentlemen, please take off all caps and fabulous hats to show proper respect for this insanely gorgeous DIY rustic farmyard barn wedding.
According to Clint, "Natahna, my sister, has always marched to the beat of her own drum. Her wedding day was a true labour of love. Almost every part was a do-it-yourself craft, which entailed countless hours and effort by nearly everybody who attended." Seriously, can we have these people's numbers when we have to move next? "Getting ready at our parents home just outside of North Battleford, SK, Natahna's vintage inspired gown came from the gorgeous boutique BHLDN," stated Clint. We are HUGE fans of BHLDN and Natahna's gown. Her dress looks like it belongs in the whimsical and ethereal DIY heaven she so masterfully created.  
"Amazingly, her wedding party consisted of thirteen stunning women, who made up what Natahna lovingly referred to as "her tribe", rather than a bridal party." We are now officially submitting our bid to be a part of the #NatahnaTribe.  "Each woman chose her own dress; there were differing styles and colours; but together they made up what can only be described as a Greek chorus," stated Clint. Normally we'd be a tad nervous for a bride that allowed her girls to have free rein. But once again, Natahna has proved us wrong. Although different colors and styles, these dresses go together perfectly and compliment the DIY nature of this wedding seamlessly. Just when you thought her tribe couldn't get any better, Clint told us "they added metallic coloured flash tattoos as accessories on their skin and opted for bouquets of laurels, rather than traditional flowers." Ummm yeah… this is too good to be true.
As for the fellas, well they knocked it out of the park as well. Our groom, Sam, opted for a stylish vintage coat from Simons. We are especially loving the rabbit pin on his lapel for an added quirky touch. All of the ties were sourced from the Etsy shop, W Vintage Vibe, which incorporated a cool vintage floral print into the wedding.
According to Clint, this wedding also included three bonfires, bales of hay for benches, custom gluten free desserts, beer from a local brewery, and not one but S-I-X bands at their reception. Apparently it was more like a "mini music festival" than a traditional reception. OK, this is getting out of hand – how do we get this cool?
Overall, this wedding is one of the most unique and gorgeous events we've ever had the pleasure of featuring. There's nothing like seeing a wedding that completely represents the couple at hand. Clint Bargen is a master with a camera and did his sister and brother-in-law major justice in capturing this spectacular event. Do. Not. Miss. This. One.
DIY Rustic Farmyard Barn Wedding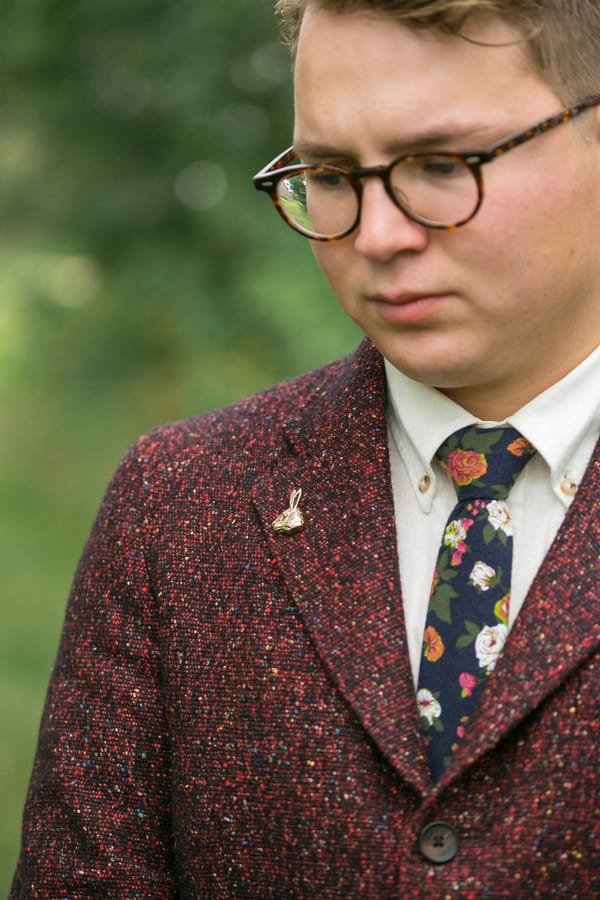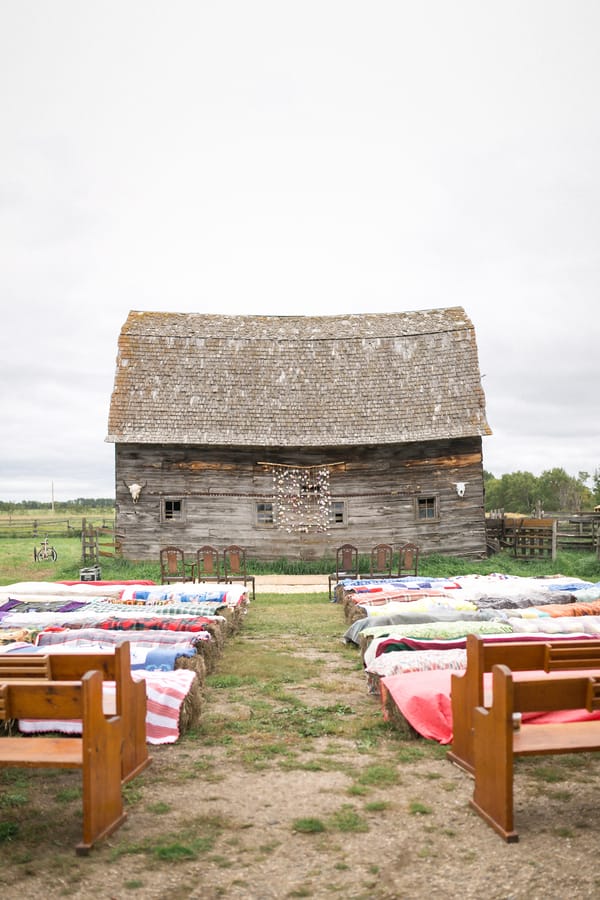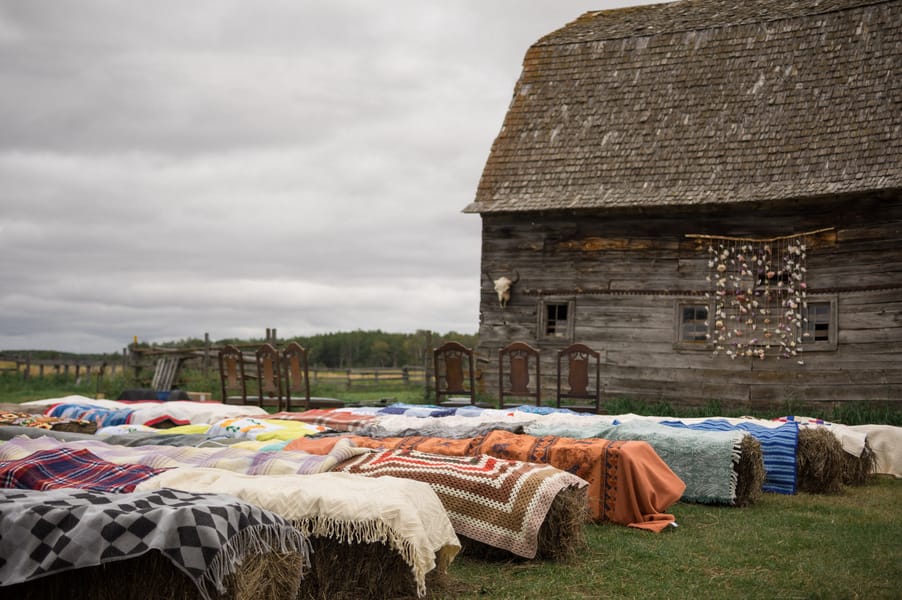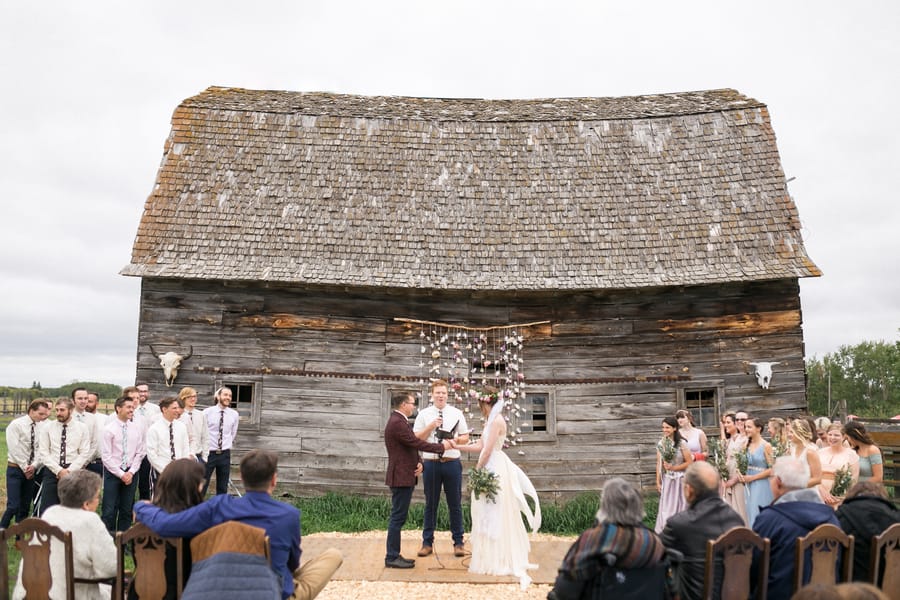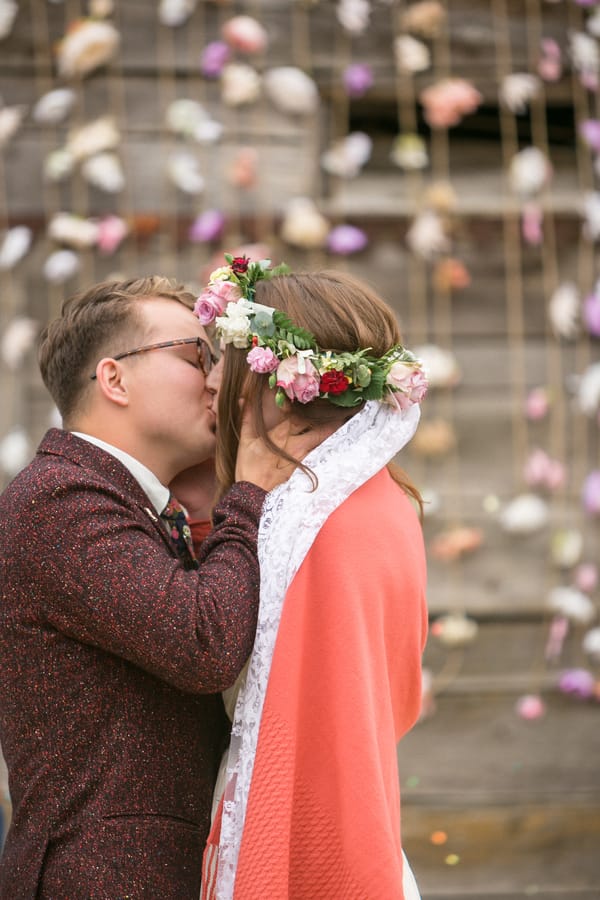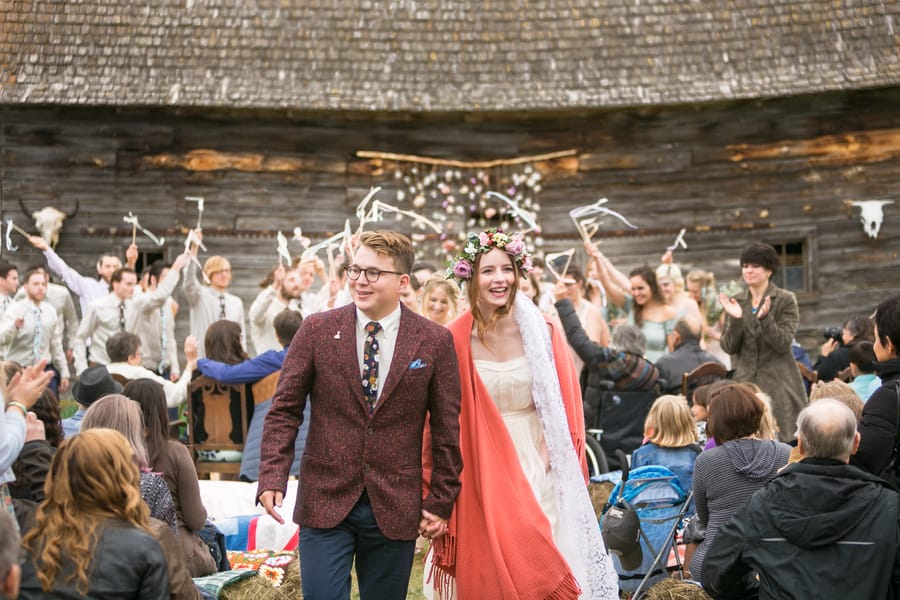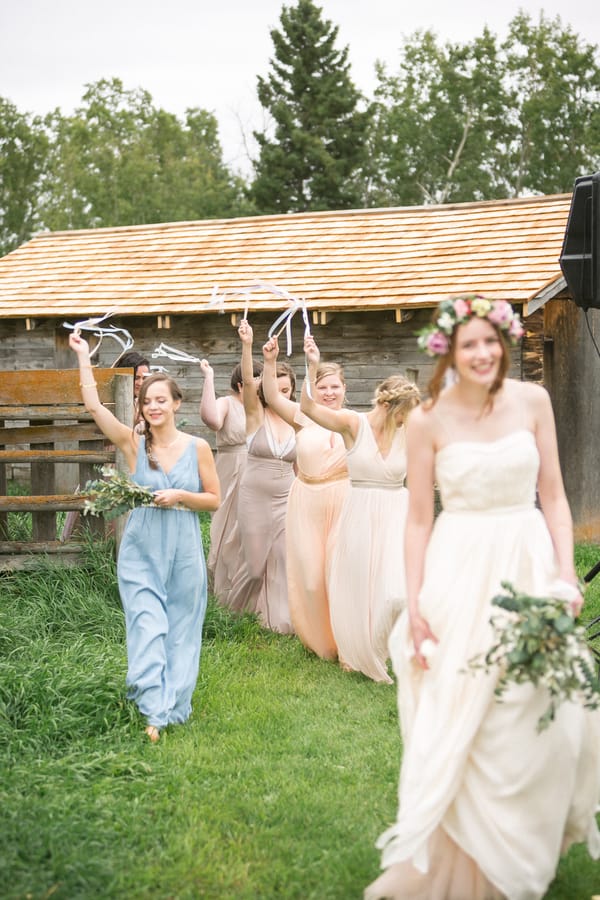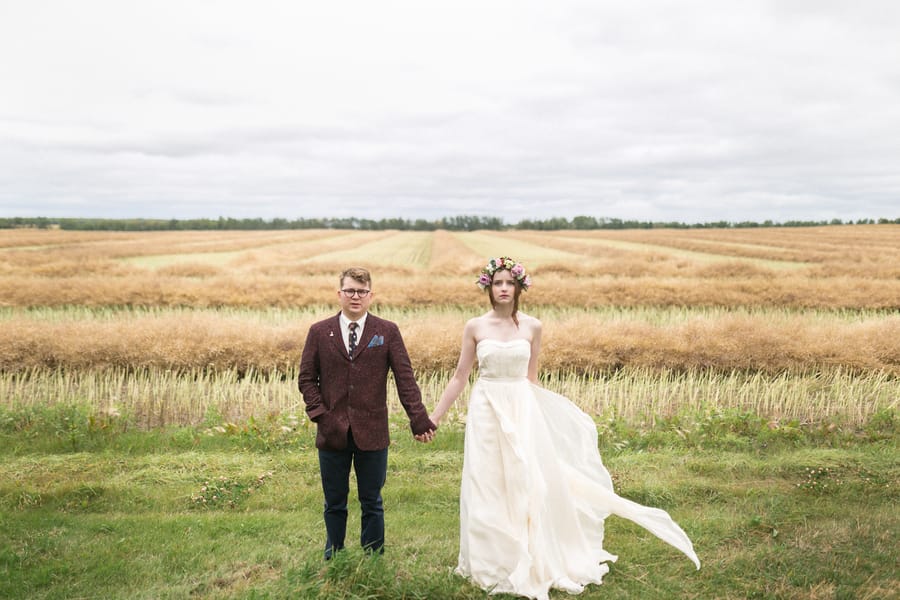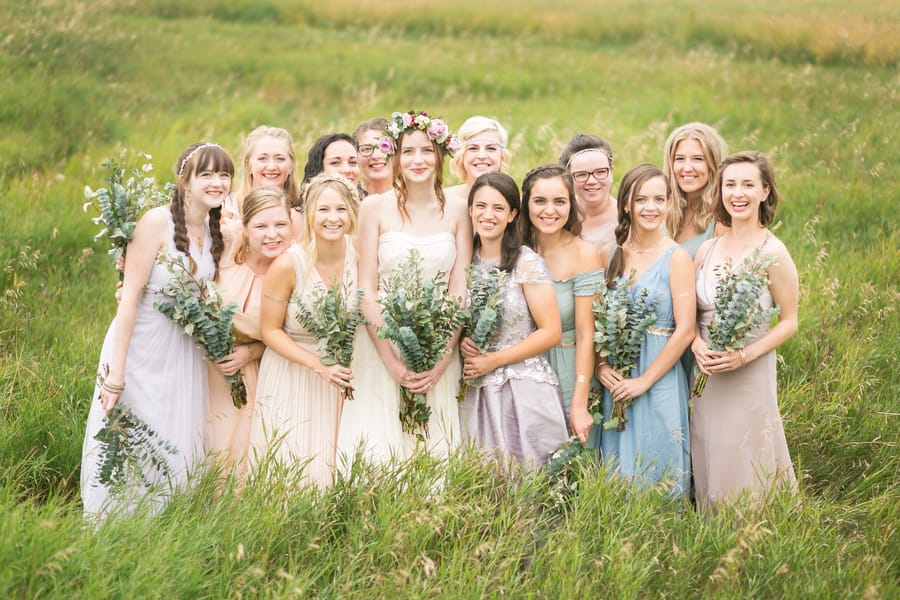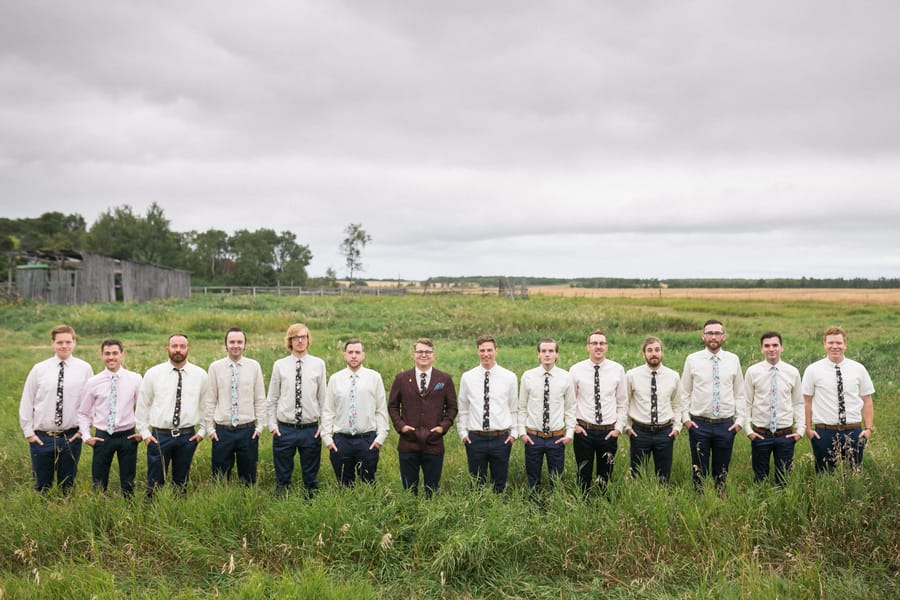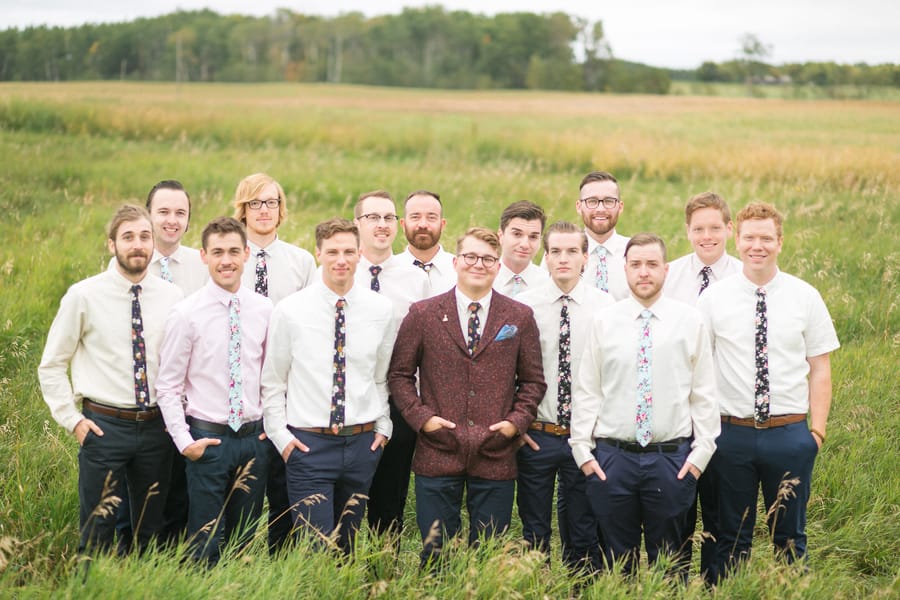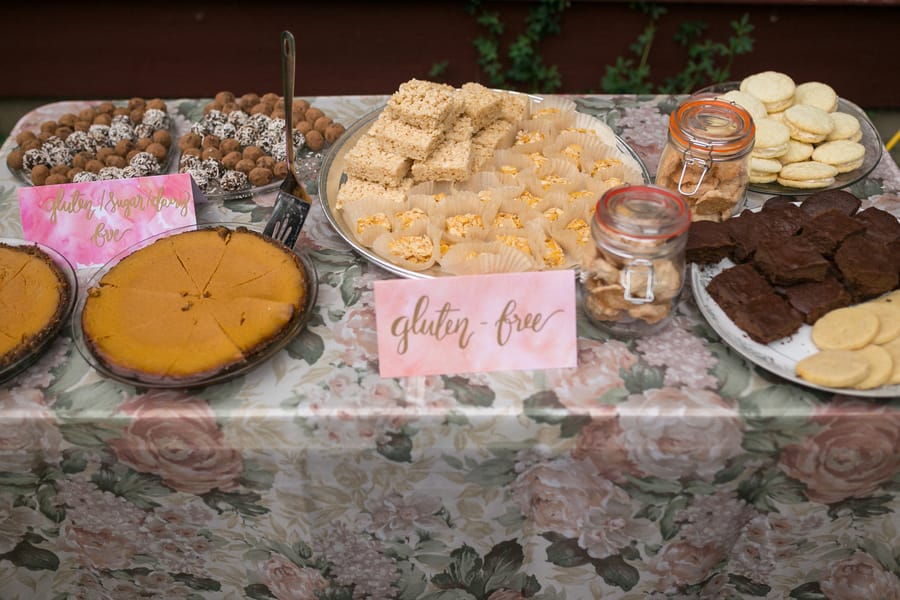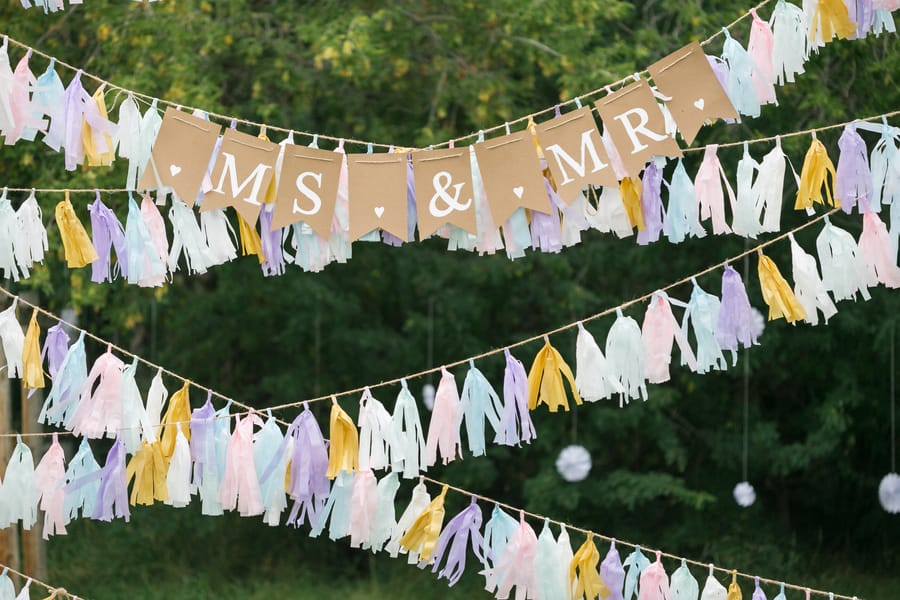 CREDITS:
Photographer: Clint Bargen Photography
Dress: BHLDN
Groom Attire: Simons
Ties: W Vintage Vibe
Food: Italian Centre Shop
Drinks: Prairie Sun Brewery
Submission: Two Bright Lights