OK, we know that it's officially May. We are well aware that should signify the official end of cold weather and the swift progression into summer. But we are taking one last moment to appreciate a wedding that took place in slightly lower temperatures. Why, you may ask? Because this shoot looks like it could have happened yesterday. We are completely mystified at the fact that this wedding seems to translate throughout all seasons. Perhaps that's why we are dubbing it the "enchanted forest styled wedding shoot" because there's definitely some magic occurring here.
According to Lauren Baker Photography, "Candle light. Eucalyptus. Flowing gowns. Dapper groom. Glistening snow. With all of the romance and warmth, you'd never know this winter style shoot took place on one of the most frigid days of the year here in Minneapolis, MN. That's the result when you have a powerhouse of vendors working together to make something truly special! The shoot's concept grew out of our collective love and appreciation for the natural, wintery, airy elements found in the North." Of course the deep greens nod to winter, however the bright florals and delicate table settings are giving us a more refined vibe. Not to mention our bride in a stunning empire-waisted gown with open back making us feel like summer is around the corner. Major props to her for keeping her "cool" during those outside shots (pun intended).
Seriously, this team of vendors is the all-star squad. Any couple would be lucky to work with them and this shoot is proof. If you're feeling like you need a little enchantment today, then go no further than this stunning shoot.
Enchanted Forest Styled Wedding Shoot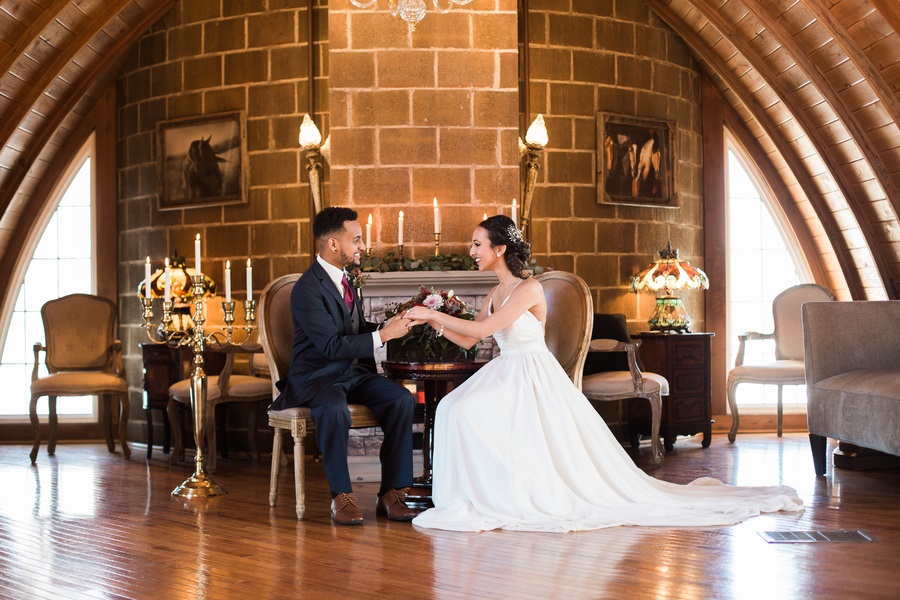 CREDITS:
Photographer:  Lauren Baker Photography//Event Venue: Green Acres Event Center//Cake Designer: Amy's Cupcake Shoppe//Design and Decor: Event Lab//Groomsman Attire: Savvi Formalwear//Invitation Designer: WS Design//Jewelry: Auntie Kay's Accessories//Makeup Artist: Sarah Elizabeth Artistry//Hair Stylist: Winter Artistry//Dress Designer: Krustallos Couture//Other:Hyacinth Bridal//Floral Designer: Lily of the Lakes//Event Planner: Piece of Cake Minnesota Weddings
Submitted via Two Bright Lights